Jackall Lures is a Japanese based manufacturer known for innovative and highly sought after designs. Started by Japanese lure designer Seiji Kato and tournament angler Ty Ono in 1999. From the first product to the very latest – quality, innovation and helping anglers catch more fish are the top priorities. Seiji Kato's goal is to create lures with a natural action, quality materials. The Jackall team utilize hundreds of prototypes over the course of multiple years with each new lure creation.
Using the latest engineering technologies the lures are some of the most technologically advanced options available today. Body shape, balance, hook placement, sound and so much more go into each lure design. Resulting in perfect performance on the water. The lure product lines include everything an angler could need for fresh or saltwater. It includes lipless crankbaits and wire baits to soft plastics and hard swimbaits. Jackall creates products with angler techniques and needs in mind. Jackall methodically field test to ensure success for the anglers before launch. Therefore anglers can feel confident in their fishing. Because these meticulously designed, torture tested lures work every time they hit the water. EAT. SLEEP. JACKALL.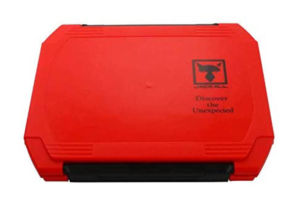 Jackall 1500D W
Systemmatic storage makes your fishing more comfortable. Compact and good usability 1500D double open TAKLE BOX. Since there is no partition, it is possible to store soft baits and lures with height.
€

11.35