DUO started out as a fishing tackle distributor in the year 1995. Then president Hisahiro Matsushita went independent and started his own company. The lure business of the 90's was severely influenced by the Japanese recession. However, DUO never compromised its principles and did not give up on the initial concept. Making products of the highest quality. Two years after the launch of the company, sales revolving around products created at the hands of Mr. Masahiro Adachi, one of the most acclaimed young designers in the country, commenced. Now in its third decade, DUO is a widely recognised brand. A country largely seen as the pinnacle of lure manufacturing.
DUO stands for form and function aligned in perfect harmony. Functional beauty is a key element in the companies design philosophy. DUO make lures not to simply execute, but to also express passion and inspiration. In an industry whose very premise is imitation, DUO strives to go beyond that, to create lures that resonate. Thus the slogan "Better Than the Real One". Their method is a combination of classical and avant-garde technology. Hand carving the master mold, then precise duplication through 3D laser scanning and high-precision 3D CADCAM. Furthermore thew the merging of new and traditional DUO have encapsulated the best of both worlds. Finished products mirror the hand-carved original with consistent and unchanged quality. By the year 2016, DUO's range of products included over 300 models and the number of lures sold reached over 20 million units.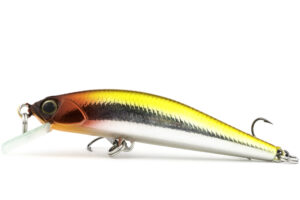 DUO Grace Minnow Elena 50F
DUO Grace Minnow Elena opens the door to the world of surface fishing . It is a highly responsive able to confront complicated river flows. Thus targeting highly active trout is easy. A lightweight body helps to control the minnow.
€

11.90