Each product is a combination of handmade craftmanship and innovation. In addition Megabass strives for high quality and attention to detail. Which anglers can find only in handmade lures. In a modern age dominated by CAD and mass production, Megabass lures are based on hand carved Yuki Ito originals. Also the lure manufacturer closely monitors each stage of the development process. Consequently high quality control ensures that the process of production keeps the originals attributes. Little has changed since Megabass' birth in a garage in 1986 at the hands and ideals of Yuki Ito. Today it continues the tradition of innovation, quality and custom handcraft. Never losing sight of angler's to whom each product is painstakingly made.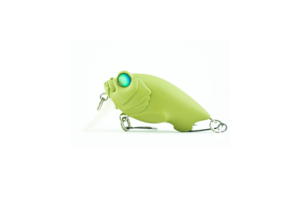 Megabass Baby Griffon Zero
Baby Griffon Zero by Megabass is a top-water bug bait based on our renowned Griffon Series. I.T.O. has tuned it. It has a larger body than Griffon and a built-in Shaft Balancer. It also has a water intake on the bottom. ZERO will dog-walk at high speed when retrieved with your rod tip high, similar to the Megabass X-80 PROP-DARTER.
€

14.90