Nories fishing lures created by Norio Tanabe, focus on fishing not trends. Hours spent on the banks testing new lures in a workshop like environment has produced a supreme line up of trout baits. Furthermore Nories focus on bringing the real and original joy of fishing.
In the Japanese bass fishing scene, Norio Tanabe is the angler who pioneered pattern fishing. He is a leader among Japanese professional anglers, but his work does not stop there. In 1983, he traveled to the United States to study bass fishing in its birthplace. He created a name for himself after moving to the United States by becoming the first Japanese person to win the BASS Kentucky Invitational and compete in the B.A.S.S. Bass Masters. He uses all of his know-how and wisdom obtained from his wide experience to create a line of fishing goods after launching his own brand, NORIES.
Using experience from years of fishing in Japan, Europe and America and the know how of producing new exiting lures. The company wants to take their time in producing satisfying lures. Furthermore to leave something that can stand the test of time. Even after all these years the Nories teams is still passionate about producing the best possible lures.
A phrase can sum up Nories and that phrase would be – Modern Technology and Traditional Craftmanship.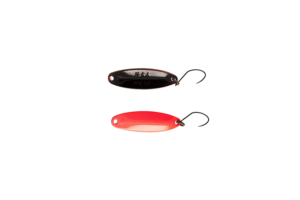 Nories Masukurouto
Norio Tanabe, a professional angler, oversaw the creation of Nories Masukurouto. Expert trout fishermen put it to the test in trout fishing ponds. Its most distinguishing characteristic is the center flat design. This unique design distributes water friction across the whole lure surface during retrieval.
€

7.61