The Japanese manufacturer FOREST specializes in the production of trout fishing lures. The lures are among the best in their class. A wide range of spoons, execute with a jeweler's precision. Moreover the attention to detail shows when fishing for salmonids. European fishermen appreciate Forest spoons for catching of pike, bass, perch, chub and asp.
The Forest spoons are created by a team of anglers who spend countless hours testing various colors to see which attract trout the most. This is why each year spoons have a new set of colors. Anglers and always adjust to trends and what fish want. Further more there line up of models is on of the largest amongst Japanese spoon manufacturers.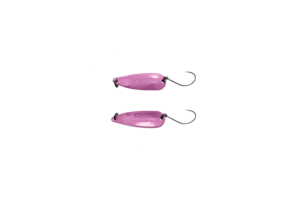 Forest Crystal 3g
In Japan, Forest Crystal spoons are a favorite trout bait. It wobbles steadily without darting or erratic movements. Without altering activities, you may easily maintain the swimming range by changing the retrieve speed and weight. Comes with a single thin wire barbless hook.
€

6.35