God Hands uses the knowledge in the field of sport fishing to create unique trout fishing spoons. They produce lures both for lakes and natural rivers. Not even the most difficult fishing conditions can stop the lure from moving. Trout is a predator known for being cunning and cautious, qualities that often leave fishermen empty-handed. Thanks to the God Hands lures, it will be almost impossible not to deceive even the most crafty trout. God Hand lures are made with high quality materials and are tested before being put on the market. Among other things, they are equipped with a barbless hook, to avoid unnecessary damage and pain to the trout.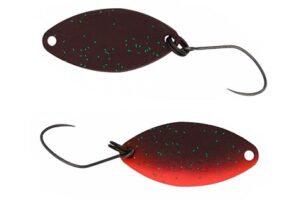 God Hands Gigas LaVin 2.4g
God Hands Gigas LaVin is the bigger brother of the LaVin. It is 26mm and 5mm larger than the Lavin. It has inherited the stable swimming action, but also a slight slide is added to enhance the appeal. The Japanese Spoon has a wide shape and a profile that is curved in the middle.
€

5.65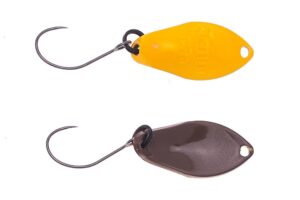 God Hands Jriya 2.2g
God Hands Jriya is the most complete trout spoon among those produced by God Hands. Thanks to the weight shifted towards the head of the bait, it is possible to cast a considerable distance. 24mm long it is available in a variety of colors (3D, UV, special, inverted "bump" and classic). The lure works great with a slow retrieve or with light twitches. Equipped with a single barbless hook. Handmade in Japan.
€

5.65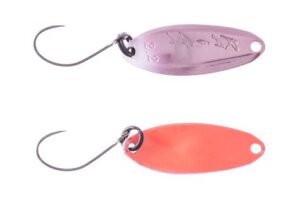 God Hands RAiGA 2.2g
God Hands RAiGA is spoon lure with a complex shape. The beveled profile, reduces retrieve resistance and adds stability. Moreover the narrow, elongated shape allows for long casting. The the center of gravity is at the middle of the spoon thus active play is visible both on the drive and on the fall.
€

5.95