Minnow lures usually have a thin, long body. They imitate school fish. Some minnow lures come without a lip and are called pencil lures. Depending on your rod movement you can animate the minnow lure. Creating an illusion of a hurt, dying school fish.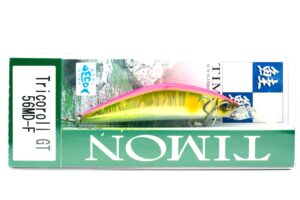 Jackall Timon Tricoroll GT 56MD-F
A 56mm size model is now available in the TRICOROLL GT series. It uses a custom made weight, magnet combo which creates a low center of gravity. The system helps to achieve outstanding flight distance and a stable swim while still being a floating model.
€

13.85