Jackson Inc. is well known as one of the front runners in high-quality fishing tackle. A name familiar among anglers and the worldwide fishing trade. Jackson,Inc. is a strong and innovative lure and rod brand. It covers both saltwater and freshwater fishing since 1980. Jackson strives to make joyful fishing tackle with soul. With absolute confidence in their products they supply tackle to fishermen around the world. They have dedicate themselves to create marvelous lures.
Jackson started in early days of Japanese lure fishing. The company launched "Cheiron" the first fishing rod specialized for Seabass. Several years later the "Athlete" minnow was released. Which added a rolling action to lures. At the time the main stream lures had only a wobbling action. It was a great success and was followed by "NyoroNyoro", "Pintail", "Rogos", "Artoron". All these have innovative actions.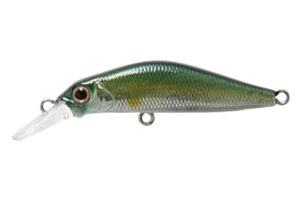 Jackson Kanade 40S
The Jackson Kanade allows the angler to fish slower sections of water. Depths where the fish like to sit. Reaching these slower pockets in faster streams is easy with the Kanade. The ability to fall into pockets of water and the semi long lip helps the angler and lure holds that position. Anglers can create action through the rod tip giving the lure a flashing and rolling action. This is easy due to its trapezoid style body.
€

13.00